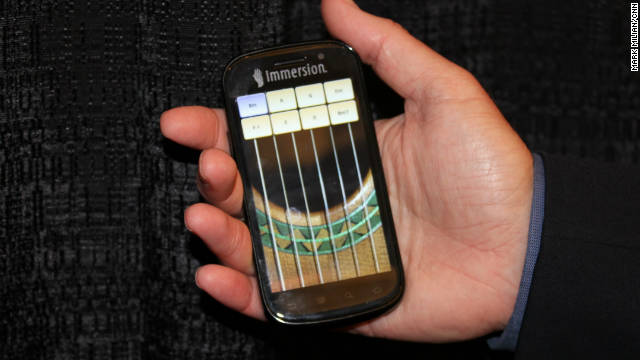 Immersion's Dennis Sheehan demonstrates a Samsung phone that he outfitted with a piezoelectric sensor.
San Francisco (CNN) – Cell-phone addicts can be so attuned to their digital companions that they are able to feel the difference between a short vibration –signaling, say, a text message – and a longer one for a phone call.
Starting next year, they will have a new class of vibrations to get familiar with.
Apple, for example, began letting iPhone users with the latest version of its software assign customized vibrations to different contacts.
Other smartphone makers are preparing to deploy the latest hardware technology from Immersion, a San Jose, California, company that researches and licenses electronic vibration tools, company vice-president Dennis Sheehan said in an interview at a conference here.
Companies that currently use Immersion's tech in their products include LG Electronics, Nokia and Samsung. Microsoft and Sony, since settling their lawsuits over the vibration tech used in video-game controllers, are now Immersion licensees, too.
Sheehan declined to say which companies would be the first to use the new sensor, but he said it would come to mobile phones first.
The field of vibration in electronics that Immersion specializes in is called haptic. With Immersion's recent haptic breakthrough, phones can produce taps, some types of rolling movements and vibrations in various strengths, depending on the software developer's preference.
"You can communicate more information using haptics," Sheehan said. As a utility, an app can give subtle clues about scrolling through menus allowing the user to tap away on a touchscreen without looking down.
Having more nuanced vibrations in phones can be positioned as an advantage over competitors' devices, Sheehan said. In many cases, basic aesthetics, processor speed and random-access memory specifications are no longer the deciding factor for someone looking to buy a new phone.
"The differentiation is not in the industrial design," he said. "They're all black rectangles."
The sensor Immersion has designed and is promoting to partners is called piezoelectric. Apple's iPhone 4 and Samsung's Galaxy phones use a vibrating motor called a linear-resonant actuator, Sheehan said. Nokia typically uses an eccentric-rotating mass, he said. The piezoelectric, which is a type of ceramic, is different because it applies an electric-field jolt that bends a mechanism to facilitate various types of vibrations.
For a glimpse at where this might come into play, Apple's experiment with assigning custom vibrations, instead of ringtones, to contacts is worth testing out. Users can tap a sequence on the touchscreen to be executed when a friend calls. Apple offers some samples of its own, such as S.O.S. and the slightly creepy heartbeat.
Post by: Mark Milian — CNN