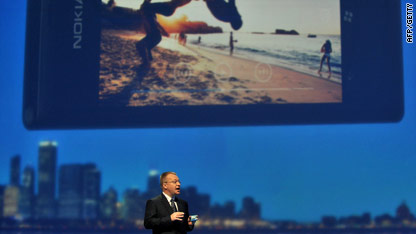 London, England (CNN) – Mobile phone giant Nokia unveiled two new smartphones in London Wednesday as it sought to boost its flagging fortunes in the booming market.
The Lumia 800 and Lumia 710 – Nokia's first handsets using the Windows Phone operating system – are the company's attempt to gain traction in the smartphone market, dominated by Apple's iPhones and Google's Android operating system.
As he revealed the Lumia 800 Nokia, Chief Executive Stephen Elop said the company was "signaling our intent right now here today to be today's leaders in smartphone design and craftsmanship."
The Lumia phones put the emphasis on music, navigation and sport, offering music mixes, navigational tools and a partnership with ESPN for mobile sports coverage.
The announcement follows Nokia's partnership with Microsoft in February. The new handsets were revealed at the company's annual Nokia World conference. The phones, Elop said, were part of "a new dawn for Nokia."
Nokia also launched four new mobile phones which it said blurred the line between smartphones and more traditional handsets, offering keyboards and touchscreens, combined with internet access and integrated social networking.
Elop is under pressure to rejuvinate the company which, despite selling the highest volume of mobile phones worldwide, has suffered in the smartphone market. Earlier this year, Apple overtook Nokia to become the world's top smartphone maker.
Nokia announced last month that it plans to cut 3,500 jobs by the end of 2012. These are in addition to 4,000 job cuts announced in April, and a part of a major restructuring.
Posted by: CNN Digital Business Producer, Irene Chapple